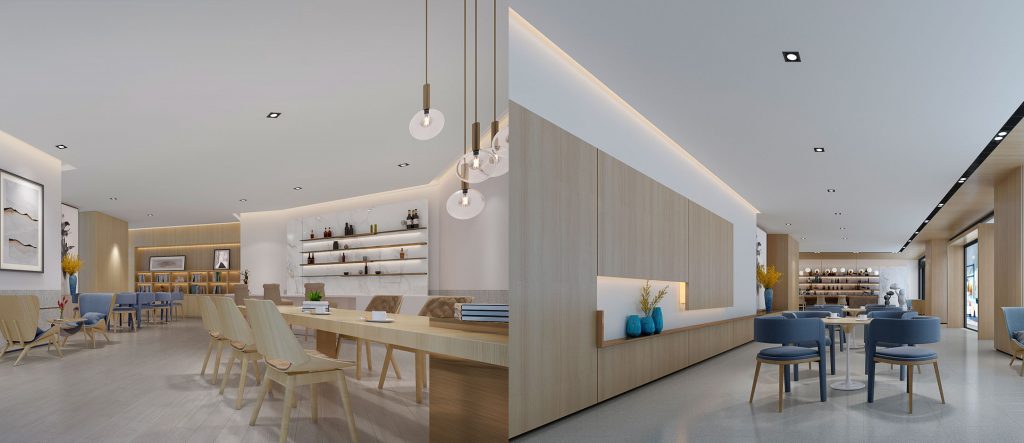 What kind of secrets are there in the design of the Book Bar Design that makes people forget to return!
Book bar interior design rendering renderings
Firstly, Book bar design rendering service company and Book bar design renderings
The fresh decoration style is simple and generous, and the wall is hung with a unique frame.
what's more, there is not much deliberate decoration. It is mainly white light, supplemented by warm light.
The whole gives a simple and fresh feeling, an impeccable aesthetic.
And then, the environment is perfectly contrasting with light purple wood-grain chairs, lightweight walls, and wooden floors.
In addition, the combination of designers and reality makes the space full of culture and leisure.
What does a book bar look like?
The traditional modeling bookcase is full of creativity, making people feel like they are in the ocean of knowledge.
After that,  the book bar is locating in the bustling area of ​​the city. The space design beyond imagination covers humanities,
philosophy, religion, art, architecture books, and sometimes the most popular books.
A cup of coffee or a cup of tea can swim in the spiritual ocean.
There is sunshine, there is a beautiful breath, and there is the best text.
Whether reading or thinking, bookstores are a great place to educate the soul.
As the knowledge, culture, thought, diversified reading space and spiritual Eden,
it is a loving home that everyone who meditates and cultivates can not miss.
The interior decoration of the store is made of natural materials, with light brown wood as the main tone,
and where the eyes are, the book fragrance and ink charm are still creative and fashionable,
and the color of the entire house is harmonious and unified.
The most distinctive feature is the writer's wall composing of light-colored wooden bookshelves on the right-hand side of the door.
The paint is rich in color, fresh and pleasing to the eye. It is supplementing by staggered books, old photos of the art, and the spread of lights.
Connotation, a sense of calm and heavy history.
last but not least, Our company has a professional rendering technology team that can provide high-fidelity quality renderings.
If you also like the unique style of book design, you can contact us and let you have a different book!
3d visualization and interior design company. We provide a full range of 3D design services 3d animation and architectural 3d visualization.
In conclusion, We are pleased to be able to provide our customers with 3D rendering.
Providing 3D rendering services is a fast-growing area of ​​our business, and we are happy to be part of the journey of innovation.
This technology is made possible. and then, Get inspiration, ideas, and advice wherever you are! Follow us Pinterest: Annie Jones