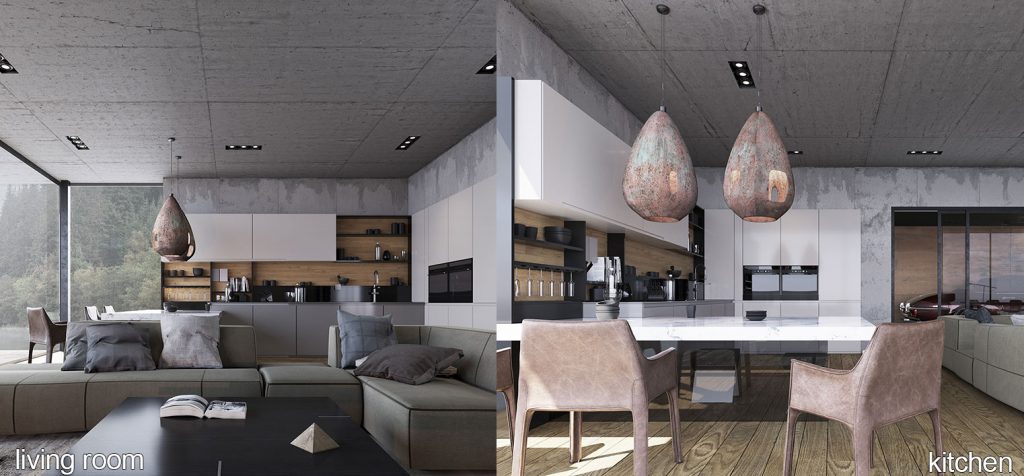 3d renderings.
How to find the best renderings online.
Above all, 3d renderings in the design work of this designer case, the first impression gives people a detached and quiet beauty,
and at the same time, it has a "human touch" that is not found elsewhere.
In the case introduced below, you will have a kind of Special enjoyment,
and the root of this enjoyment is an intoxicating and quiet beauty.
For instance, the overall use of cement gray, bare concrete ceiling and structural walls exude simple beauty, embellishment with green plants, a different level of quiet beauty.
The smooth material of the cement-colored cabinet with marble backboard and wood grain floor brings out the beauty of modern simplicity.
The lower part is designed as a wine cabinet.
In addition, the wooden building materials are injected with a warm atmosphere,
and both the design and the activation of space utilization.
The light green low-saturation furniture and sofas are visually consistent,
but with different shades of color and different materials to create a layered three-dimensional sense of space.
A small number of wooden building materials embellish the cool gray feeling of balance,
and the suspension above the rack has the functions of wine glass storage, lighting, and planting arrangement.
The hanging green plants inject vitality and create a fresh atmosphere for the simple space.
The color of the entire space is relatively calm, simple and stylish with charm, giving the space a sense of quietness and comfort.
In addition to meeting the needs of normal life, it is also necessary to show the aesthetics of art.
The connection between the marble reflections on the countertops and the light coming in through the windows is incomparable.
The earth color system is the most tasteful and stable color system in the home space.
Whether it is a living room or a quiet bedroom, you will feel more comfortable.
last but not least, Get inspiration, ideas, and advice wherever you are! Follow us
on Facebook: Meijie Pan
Pinterest: Annie Jones
Twitter: @ AnnieJo48554529
Some of our services:
Our company will produce 3D floor plans for large-scale projects, apartment exterior rendering,
realistic interior renderings,3d architectural rendering, store rendering, office, etc.
We will create a 3d renderings based on your image, pdf, hand drawing.
We will make 3D indoor and outdoor renderings for you.