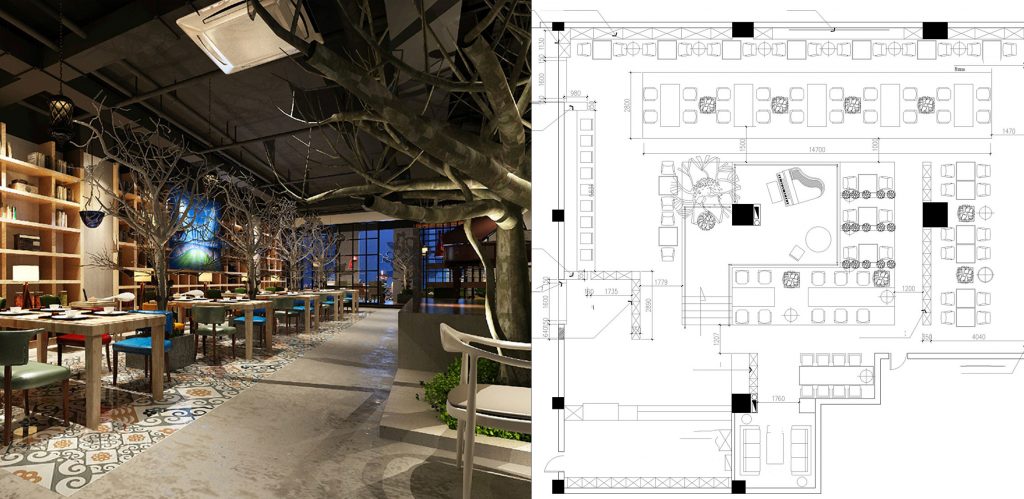 restaurant floor plan
As winter arrives, restaurant owners pack the tableware in the restaurant plan, restaurant floor plan and many are wondering what steps they need to take next year to change their interior space.
Therefore, this is the ideal time for contractors to familiarize themselves with the design trends of 2020 to help guide customers in creating their interior restaurant floor plans.
what's more, the top priority is to expand the dining area and achieve a seamless transition between inside and outside. prompt.
Firstly, Setting up a floor plan for your restaurant can be a complex and difficult task.
Finding a balance between aesthetics and mobility is very difficult. You won't get it right the first time,
but with only a few changes and updates, you can create a floor plan with a perfect rendering process.
This is a design layout that improves the customer experience.
1. Provide multiple ways to experience
Stimulate customers' curiosity by offering multiple ways to enjoy the restaurant.
Creating dining spaces beyond the restaurant will encourage customers to come back again to enjoy a different experience.
Private rooms, multiple independent bars, terraces, deck areas, and open-plan restaurants are all the different ways that diners can interact with your business's food service department.
There is a wide selection of seats, which can provide seats for multiple groups on any occasion.
It makes sense to have a versatile space that can accommodate company meetings or any event.
These groups have different levels of privacy, so consider them when designing a floor plan that meets any need.
2. The best interior design and decoration
Part of designing a fascinating dining experience is the adoption of an important part of the cohesion throughout the restaurant operation.
By installing quality furniture, lighting, artwork, and fixtures, you can create a lot of value for your guests.
The design of the western restaurant is very important to create the operating atmosphere of the western restaurant.
For example, lighting needs to make food coming out of a kitchen look attractive. It turns out that some lamps work better for this.
The bathroom should be quiet and away from the dining room.
When entering the entrance, consider how air from outside or new customers can disturb guests sitting near the door.
3. Workflow
One thing that annoys guests is that the restaurant staff is under pressure, running around and crashing into the table, affecting the dining experience of the guests. Sometimes these issues can be addressed by introducing floor plans that optimize employee workflow, whether it's moving tables away from kitchen doors, providing employees with larger aisles to carry food, or creating clearly defined service areas in the system. The workflow between the kitchen and the ground staff is particularly important for providing timely, timely and professional services.
last but not least, Get inspiration, ideas, and advice wherever you are! Follow us: Pinterest: Annie Jones