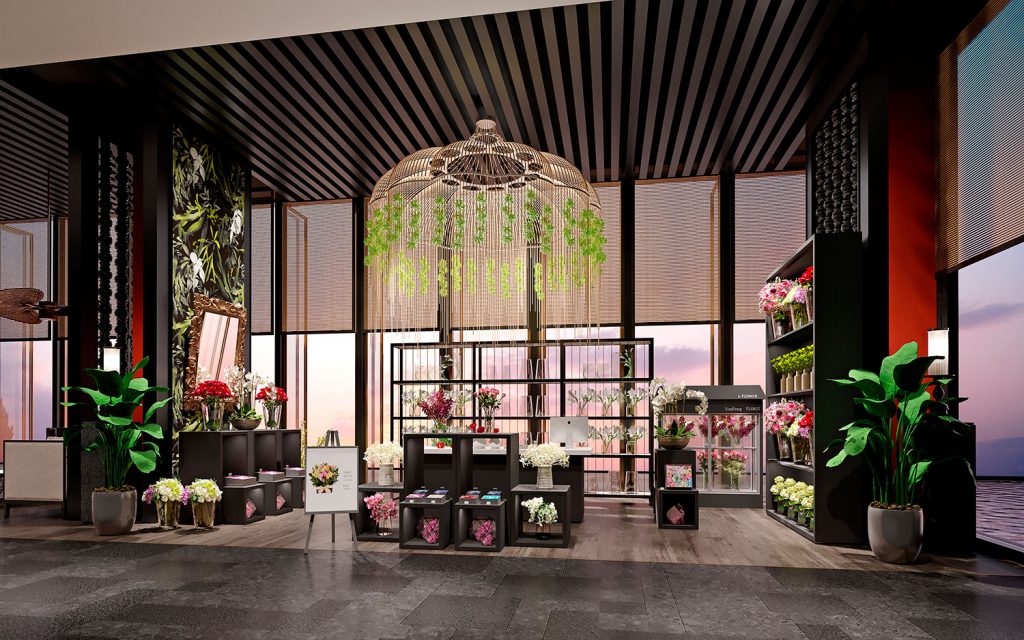 Flower shop interior design renderings.
Hotel flower shop 3D architectural rendering.
The arrangement of the flower shop is very important. The delicate and beautiful arrangement not only attracts the attention of consumers and leads them into the flower shop,
but also the complicated arrangement sometimes brings inspiration to customers. Ideas are combined with home decoration and decoration to become regulars in flower shops.
1. Signboard design.
The design of a flower shop's signboard is very important. The most important thing is to remember the sign. Don't design a sign that is difficult to remember so that even if there is a repeat customer next time, they will forget the name and lose a large number of customers.
2. Facade decoration.
The decoration of the facade does not need to be too gorgeous. The most important thing is to show the warmth and warmth of the store.
Therefore, it is necessary to be close to nature when renovating. Do n't use dark decoration.
Flowers are placed at the door, or some more distinctive slogans can be moved.
3. Show window design.
The design of the window must reflect its own package of flowers and the aesthetic level, and the owner of the flower shop has a low level of aesthetics,
so the packaged flowers will not give too much expectation. Therefore,
we must pay attention to the window design that must choose their own proud works to help customers understand the flower shop and flower shop design works.
Flower shop design renderings.
The renderings allow viewers to see several areas of the florist: the shelf and window areas and the light ceiling floor design,
making it easy to assess the spaciousness, practicality, and versatility of the florist.
Our company focuses on interior design rendering, providing high-quality 3D images of architecture and interior design,
saving customers time and money, visualizing your building with new angles using rendered 3D images, and we look forward to working with you!
Pinterest: Annie Jones