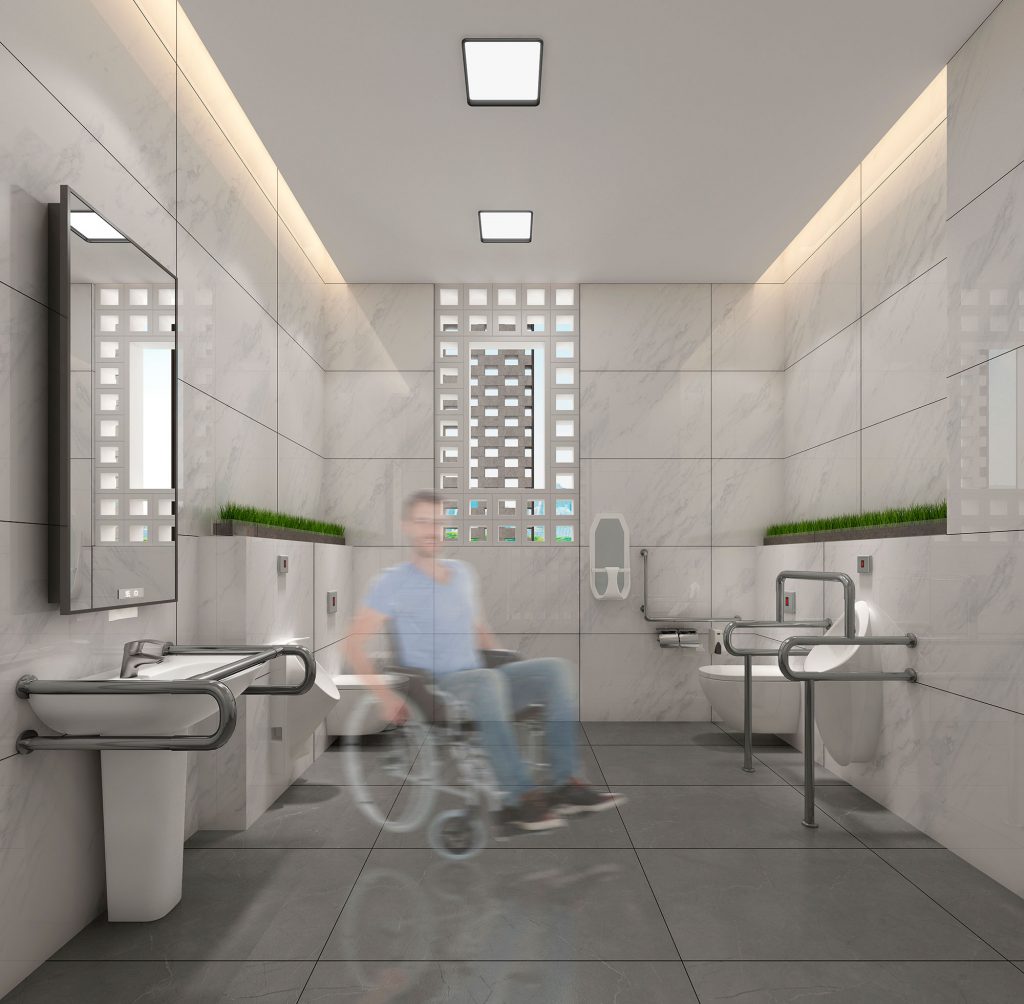 architectural services.
Above all, How to design architectural services for a disabled bathroom? How to provide greater services?
Disabled bathroom interior design renderings
Barrier-free bathroom design rendering service company
Bathroom design renderings
In airports, stations, hospitals, parks, nursing homes, and other public places,
barrier-free toilets are set up in the toilet area.
The barrier-free toilets are independent toilets regardless of gender.
After that, they are equipping with special barrier-free facilities,
including wheelchair-friendly people and people in need Doors opened by people,
special sanitary ware, safety handrails supporting the sanitary ware, etc., In addition,
provide convenience for disabled people, the elderly or women and children to use the toilet.
Design guidelines
First, the door width of the barrier-free bathroom is not less than 800mm, which is suitable for wheelchair access.
Second, use push-pull to move the door, and install horizontal handles on the door to open or close the door.
If the budget allows it, use a power door and the user presses the button (or red sensor) to open or lock it.
Third, the internal space of the barrier-free bathroom should be greater than 1.5m * 1.5m, which is conducive to wheelchair rotation.
Finally, it is equipping with an emergency call system.
The emergency call system can  be installing  on the wall 450mm above the ground,
installed with a waterproof switch, or integrating on the safety armrest.
An alarm red light connecting to the emergency call system is arranging outside the door.
Discover a range of disabled toilets, disabled showers and height-drive systems that can be fully raising and tilted.
what's more, All designs and installations help you to use the toilet independently and with dignity, designed to help you stay independent.
How to design a disabled toilet? How can I really serve the people I need?
In a word, If you are still in trouble with the decoration and design of the disabled toilet, then you must not miss us.
You can provide different styles and functions of the bathroom design renderings.
If you are interested in architectural services, please feel free to contact us!
last but not least, Pinterest: Annie Jones
Twitter: @ AnnieJo48554529